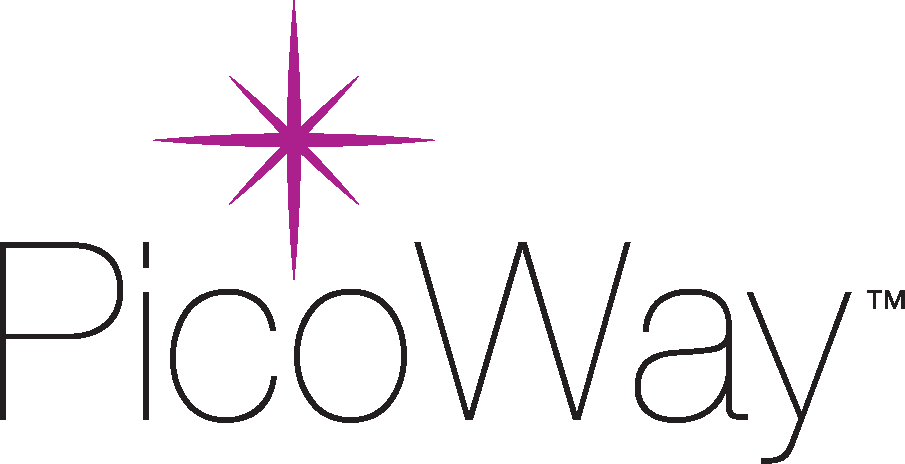 PicoWay is a remarkably innovative dual wavelength picosecond laser from Syneron Candela, the most trusted name in aesthetic lasers. PicoWay enables removal of multi- colored tattoos, recalcitrant tattoos and benign pigmented lesions on any skin type.
PicoWay's unique mode of action is based on delivering ultra- short picosecond pulses of energy to the tissue. These bursts of energy create a photo- mechanical impact which breaks up the tattoo ink or pigmentation into smaller, more easily eliminated particles.
TREAT ALL SKIN TYPES
1064 nm wavelength can be used to treat all skin types, safely and effectively, without risk of hypopigmentation.
OPTIMAL FLEXIBILITY
Adjust wavelength, energy, spot size and repetition rate
EXEMPLARY PERFORMANCE
Integrated in a proven, reliable Candela platform
FITS ANY SPACE
Medium sized, mobile from room to room
FAST INITIATION
Ready to use in less than 2 minutes
LOW RUNNING COSTS
PicoWay Pulse-on-Demand ensures
ultra-long flashlamp life
SCALABLE
Robust design enables future application developments
PICOWAY – THE CLEAR SOLUTION
---
CUSTOM DESIGNED FEATHERWEIGHT™
HANDPIECE & ARTICULATED ARM
OPTIMAL USER EXPERIENCE
Featherweight handpiece and articulated arm provides 7 degrees of positioning flexibiity
LINKED USER INTERFACE
Dial it on the handpiece, see it on the screen
ERGONOMIC
Featherweight handpiece & articulated arm means improved operator comfort over large treatment areas and long treatment days
OPTIMAL USER EXPERIENCE
Customize treatments with a broad range of spot sizes. Large spot sizes for faster coverage and the
depth of penetration needed for some targets
LARGE SPOT SIZES
For the faster coverage and the depth penetration needed for some pigmented lesions
EASY TO USE
Streamlined guided mode user interface virtually eliminates learning curve
Resolve – Holographic Fractional Handpiece
---
PicoWay – now with Resolve – is the first picosecond dual wavelength (532nm & 1064nm) system with both non-fractional and fractional capabilities. "Picosecond lasers are already being used for skin rejuvenation and improvement of acne scarring, using fractionated and non-fractionated beam profiles"
Provides dual wavelength (1064nm & 532nm) to target deep and shallow lesions.
1st and only aesthetic laser with revolutionary holographic fractional technology.
Uses picosecond holographic fractional to deliver predictable energy and ensure uniform treatments.
Customizes treatment of pigmentation and skin and textural irregularities with adjustable fluences.
Easy add-on to PicoWay.
WHY CHOOSE PICOWAY TECHNOLOGY RATHER THAN Q-SWITCH?
Scientists acknowledge that the shorter the pulse duration, the higher the efficiency for converting laser energy into the mechanical stress needed to fracture particles into small fragements. The smaller the fragment, the easier it is for the body to effectively remove it.
Q- Switch technologyrequires numerous treatment sessions, causes significant discomfort during treatment and, in many cases, incompletely removes tattoos and pigmented lesions.
Picosecond technology,has ultra-short pulse durations, 100 times shorter than Q-switch lasers, and in the trillionths of a second. PicoWay is the answer physicians are looking for to combat the reluctance patients may have to treat tattoos or more complex pigmented lesions.
"PicoWay's unique picosecond technology enables full flexibility to adjust the wavelength, energy, spot size and repetition rate, providing customizable treatments which ensure outstanding clinical results. The novel PicoWay technology enables our clinic to offer a new and exciting solution to remove pigmented lesions. The treatments have proven to be effective, safe and comfortable with a high satisfaction rate among our patients."Henry Chan, MD, Vice President of Hong Kong College of Dermatologists, Honorary Professor, Department of Medicine, University of Hong Kong
The new ultra-short 785nm wavelength
Tattoo removal is easier now with the new Picosecond laser in Singapore. This is the first, ever, 785nm wavelength picosecond-domain laser in the world. This novel addition to the PicoWay enables optimal treatment for blue and green tattoos, and is a welcome addition to the 532 and 1,064nm wavelengths already available with the PicoWay. The new 785nm wavelength further enhances the already strong capabilities of the PicoWay platform for tattoo removal, adding to its ability to rapidly and safely clear multicolored tattoos.
The innovative PicoWay laser platform delivers ultra-short pulses of energy (e.g., 300 picoseconds at 785nm) making treatments shorter and comfortable for patients while offering the industry's shortest pulses and highest peak power. The addition of PicoWay's third wavelength completes the PicoWay laser platform, allowing for the comprehensive removal and treatment of all colors of tattoos and pigmented lesions
The efficacy & ability shown by The Picoway 785NM wavelength where by the
tattoo inks are easily removed in only two treatments.
Easily removed the hard to treat
providing faster & better results than traditional tattoo removal lasers.
Discover what more you can do. Get in touch with us now.
1,400 total views, 3 views today