Photosensitive nanoparticle technology to be combined with cosmetic radiofrequency treatments to accelerate and multiply the effects of radiation.
---
WHAT IS IT
---
The collection of products for radiofrequency is comprised of 2 serums: Celltense for body treatments and Hyalgen treatments.

The use of Celltense and Hyalgen accelerates neocollagenesis, boosting the efficacy of the radiofrequency treatment and accelerating the appearance of visible results.
---
CELLTENSE SERUM
Celltense is the professional serum specifically for body treatments. Radiofrequency takes 1 to 3 months to yield visible results and is not very effective in treating cellulite.

Combined with Celltense, visible results are accelerated to one week and the appearance of cellulite is visibly improved. Furthermore increasing results of RF treatments by 18 times.
---
HYALGEN SERUM
Hyalgen is the specific serum to combine with radiofrequency facial treatments. It is particularly indicated to act synergistically with radiofrequency and to visibly reduce the appearance of wrinkles and nasolabial folds, to improve the tautness and luminosity of the cheeks and forehead to define the facial lobe.
HOW IT WORKS
---
Hyaluronic acid-coated gold nanoparticles have the ability to activate the CD44 cell receptor, whose mission is to regulate the endogenous production of hyaluronic acid and collagen.
At the same time, gold nanoparticle absorb the electromagnetic radiation and use the absorbed energy to increase their temperature, boosting their efficacy. Applied on the skin prior to radiofrequency, coated nanoparticles speed up the production of collagen.
SCIENTIFICALLY TESTED EFFICACY
---
Celltense Serum and radiofrequency combination boosts and accelerates cellulite volume reduction and skin firmness improvement.
Results are visible after just one week of the last session.

In a double-blind placebo controlled clinical study to treat the appearance of cellulite, there was a significant improvement from Celltense Serum + RF vs RF alone (90% vs 55%).
Measures were taken one week after completing six treatment sessions.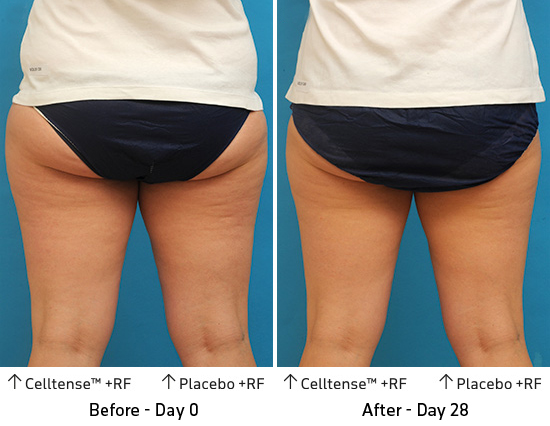 840 total views, 2 views today