---
The FotonaSmooth™ XS laser system is a popular choice for gynecologists thanks to its proven ability to perform an impressive range of non-contact, non-invasive procedures with greater patient comfort, reduced downtime and quicker healing.
ADVANTAGES OF ER:YAG LASER IN GYNAECOLOGY
non-contact, non-invasive, high-precision procedures
little or no pain, many treatments possible without anethesia
simultaneous disinfection, total re-epithelization and fast wound healing
outstanding clinical results
no consumables
FOTONA SMOOTH XS MODEL
2940 nm Er:YAG
Exlusive SMOOTH mode for non-ablative vaginal collagen neogenesis and remodeling
Fotona Variable Square Pulse technology for controlled tissue ablation and coagulation
Complete range of gynecological procedures
Additional aesthetic procedures
Intuitive and intelligent graphical user interface with many presets
WIDE RANGE OF TREATMENTS
Laser labial trimming
Laser vulvar melanosis
External tissue tightening
APPROVED INDICATIONS
The Er:YAG laser is indicated for use in Dermatology and Plastic Surgery, Podiatry, Gynecology, Genitourinary, excision, ablation, coagulation. Dermatological procedures requiring resurfacing of soft tissue with fractionated handpiece.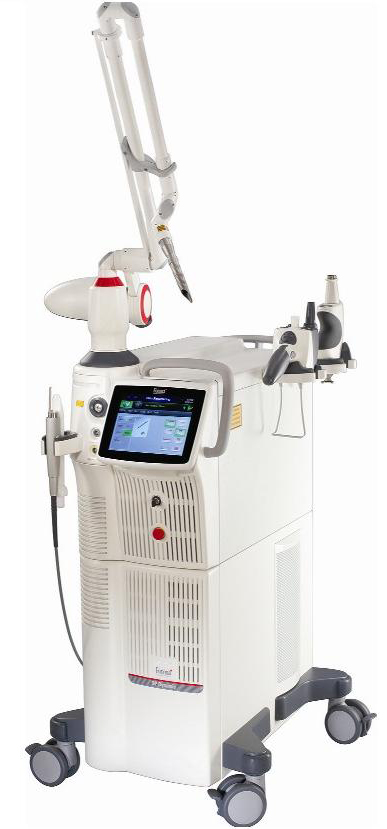 FOTONA SMOOTH ER:YAG TECHNOLOGY
---
Utilizes an optimal laser wavelength that is absorbed within a few microns of muscosal tissue, thus avoiding any damage to deeper-lying tissues and organs.
Delivers optical energy in termporally optimally-spaced, short laser pulses in order to prevent temperature build-up at the surface to achieve homoegeneous heating within a serveral-hundred-micron think superficial layer of the muscosal tissue.
Treats the muscosal tissue in a smooth, almost "feather-like" non-ablative manner, without any bleeding and with a precisely controlled temperature deposition that eliminates the risk of tissue damage
The Revolutionary FotonaSmooth Solution for Non-Invasive Laser Vaginal Treatments. G-Runner™ – the latest digitally controlled scanning handpiece technology for FotonaSmooth® gynecological laser systems.
What is G-Runner?
The Fotona G-Runner™ is an automated control system for
SMOOTH® mode gynecological treatments with Fotona's
Er:YAG laser systems, enabling optimized treatment times with
increased comfort for both patient and operator.
Benefits of G-Runner
Supreme accuracy and precision of laser energy deposition
in vaginal mucosa
Easy to use, fully automatic operation
Short treatment time
Increased comfort for the patient and operator
How Does it work?
Treatments with G-runner™ are exceptionally easy to perform.
G-runner™ provides automatic delivery of laser energy to the
vaginal canal by utilizing a precise microprocessor controlled
positioning system to consistently provide safe, fast and uniform
delivery of SMOOTH® laser pulses along each position of the
vaginal wall. Depending on the indication and patient's anatomy
(the size of the vaginal opening and the elasticity of the vaginal
canal), G-Runner™ supports accessories to facilitate an optimal
laser treatment. This includes a set of full-beam and fractional beam
optical modules as well as different sizes of speculums.
DISCOVER WHAT MORE YOU CAN DO. GET IN TOUCH WITH US NOW.
3,666 total views, 1 views today