The Most Powerful Portable LED System In The World
The Dermalux Flex MD is the next generation of portable LED Phototherapy featuring proprietary LED technology and the Dermalux guarantee of efficacy and quality.
Clinically proven Blue 415nm, Red 633nm and Near Infrared 830nm delivered via single wavelength high power LEDs ensure targeted light delivery into the skin. Wavelengths can be selected as individual or multi-wavelength treatments for a wide range of skin concerns and combination treatment application. Treatments are pre-set to a 30-minute duration and can be manually adjusted as required.
The large flexible LED canopy is secured in a base unit for comfortable application to the face and can be removed and position flat for treatment of the body.
The Flex MD offers the perfect complexion boost and can be integrated to enhance and accelerate treatment results.
Clinically Proven Wavelength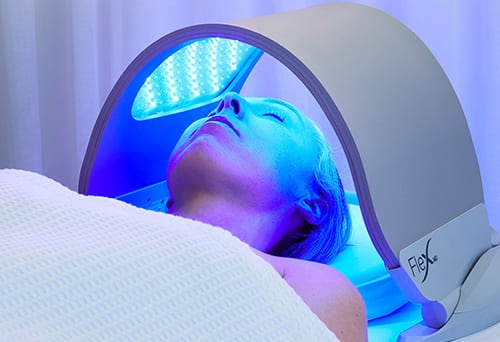 Blemish fighting blue light destroys the bacteria which causes acne and improves skin clarity without irritation. It also has a calming effect for problem skin conditions.
Rejuvenating red light energizes cells to accelerate renewal, boost collagen and elastin production and increase hydration for smooth firmer skin. Ideal for restoring vitality and glow.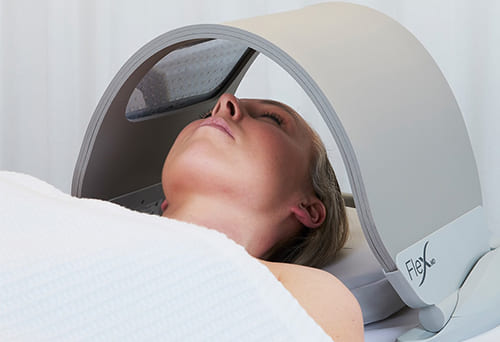 Regenerating Near Infrared light offers advanced rejuvenation benefits, promotes healthy skin, calms redness and irritation and helps to reduce pigmentation.
For enhanced and accelerated results, Dermalux therapy uniquely delivers multiple wavelength treatments which are tailored to your skin condition.
Device Feature
Dermalux Flex MD
Wavelengths
415nm
633nm
830nm
Single Colour Mode
✓
Multi Colour Mode
✓
No. of Protocols
7
Treatment Time
30 minutes
Application
Face & Body
Number of LEDs
360
DOSE j/cm²
10-40
Treatment Area
730 cm²
Hygiene Rating
High
Certified Rating
✓
Marketing Support
✓
Manufacture
High
Medical CE & FDA
✓
Let a Servicom product expert show you how the Dermalux Flex MD can help transform your patients – and your practice.
Request for a Free Product Demo Here Now