High Powered Hair Removal;
The First and Only Device That has Simultaneous Multi-Wavelength Hair Removal Capabilities
The world's first multi-wavelength workstation, the Triton is the only hair removal option that combines the three most popular wavelengths in one platform, using Fusion Technology, to address up to skin type VI.
The Triton workstation offers the unique blend of three different wavelengths, in multiple outputs, to maximize the ability for clinics to treat any patient in a uniquely customizable manner. This ensures that the Triton is the only hair removal workstation that any clinic requires. In the past, lasers had to reduce peak power or speed to compensate for darker skin types.
Triton optimizes power, speed and results, making this the ultimate hair removal system.
Learn more about InMode Triton and its unique blend of 3 three different laser wavelengths here.

Triton Duo dark utilises 810nm and 1064nm Diode and Nd:YAG to precisely render any area of the body smooth and hairless.
Duo Dark is highly effective for dark skin up to skin type VI, without losing its efficacy:
The Triton Duo dark can expand the business to help patients who would otherwise be left without a hair removal solution.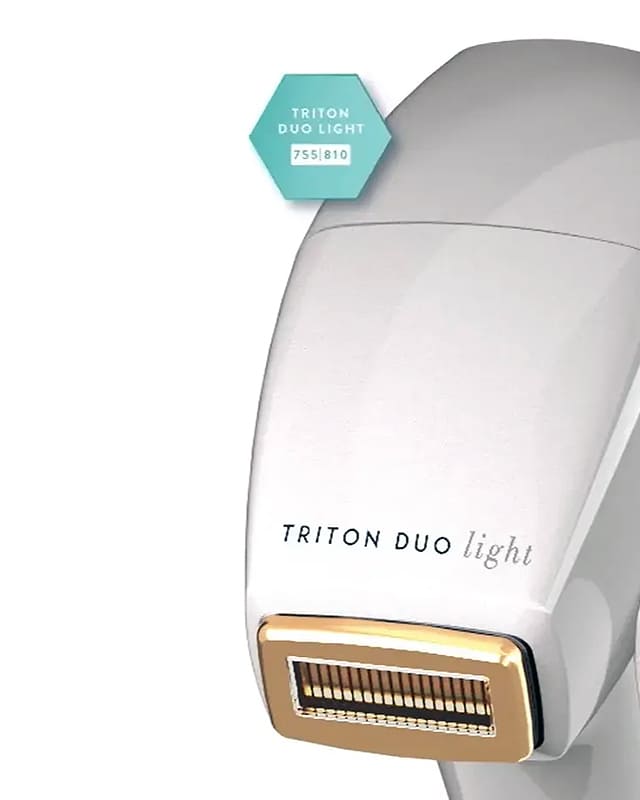 Duo Light emits a unique blend of three wavelengths in multiple outputs to remove hair in a customizable fashion. Adept at treating light hair and skin types I to III, for all hair colours and thickness.
Using a 755nm Alexandrite and 810nm Diode, Duo Light is the only simultaneous multi-wavelength technology.
A hair removal solution offering peak power with optimal speed. Design with state-of-the-art diode lasers, the DiolazeXL offers patients the most effective hair removal treatment. DiolazeXL has built-in safeguards to ensure that all sessions are comfortable and relatively pain-free. DiolazeXL targets coarse and stubborn hair, up to skin type VI.
All patients concerns can be treated with this innovative, effective and attractive platform:
Light hair or skin

Dark hair or skin, including skin type VI

Fine or coarse hair

Medium complexion and thickness

Stubborn hair

Treat legs in 20-30mins
With one platform combining 3 of the most popular wavelengths, you are able to treat all skin types and tones.
Triton Duo Light
Triton Duo Dark
Three Wavelengths
755nm and 810 nm Alexandrite and Diode

810 and 1064
Diode and Nd:YAG

Output
Simultaneous Blend
Pulse Duration
Short and Long
Repetition Rate
Single, 1 pulse per second, 2 pulses per second,
Glide up to 5 pulses per second
Spot size
12 mm x 26 mm (3cm²)
Cooling
Normal cooling for superficial hair
Strong cooling at maximal energy and
any environmental conditions
Fluence
5-40J/cm²
Footprint
Compact and lightweight
Let a Servicom product expert show you how the InMode Triton can help transform your patients – and your practice.