Vein Visualization is the Standard of Care;
The New AccuVein AV500 Redefines the Standard
With up to 90% of patients requiring IV therapy at some point during their hospital stay, escalation calls and other complications are both inevitable and costly. 
The ripple effects of difficult sticks are felt by everyone. At the busy hospitals, difficult sticks can quickly trigger a casade of clinical and operation issues. Escalation calls to other clinical staff not only delay treatment, they too often lead to more invasive procedures that may increase the risk of infections, catheter failure, longer hospitalizations, and other complications.
AccuVein's near Infrared (NIR) vein visualization technology is a simple, safe solution that can increase staff proficiency in PIVC assessment, help avoid patient complications, and address clinical and operational priorities.
AccuVein Visualization Device is a simple solution to the complex venous access challenges facing every hospital. Learn more about AccuVein AV500 Visualization Device and its unique features here.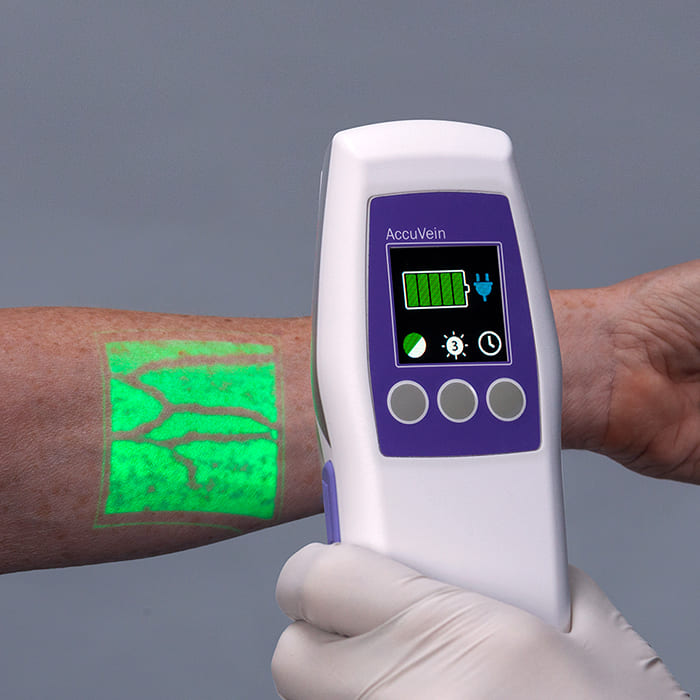 Reduced Escalation Calls
When AccuVein Visualization Device was implemented across various nursing units, (adult medicine/surgery, pediatric, intermediate care), escalation calls decreased by 45%.
This change not only saved valuable staff time, it also appeared to increase staff's confidence.
Preserve Vein Health
AccuVein-guided assessment supports the most advanced approach to vein preservation, as stated to the INS 2021 Standards: "It is important that vascular visualization technology is employed to increase insertion success of the most appropriate, least invasive vascular access device (VAD), minimizing the need to escalate to an unnecessary, more invasive device and to reduce insertion-related complications.
Improved Patient Experiences
The number one concern of patients is pain associated with how many times they will be stuck with a needle. AccuVein-guided procedures resulted in a 39% reduction in pain and a 45% reduction in patient stress. Increasingly, patients are asking hospital staff to employ vein visualization technology to reduce their anxiety and pain.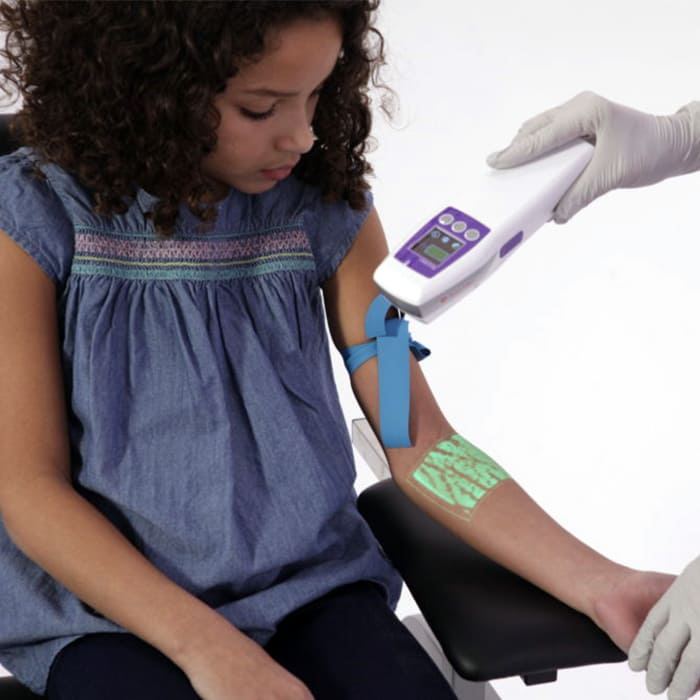 Eight Reasons to Choose the AV500 Vein Visualization Device
 •  UNIQUE EASY TO USE. No calibration, adjustment or prevention maintenance necessary and works at four or more inches from the skin.
•  TRUE HANDHELD. The AccuVein fits in your hand and weighs less than 10 ounces.
•  BATTERY RECHARGES IN UNIT. No need to remove the battery or plug it into an electrical outlet during use. Charge in a cradle or stand or run unplugged for hours.
•  MOVEMENT TOLERANT. Shows veins in real time so the device can accommodate patient movement
•  ACCURATE. Permanently aligned, no calibration testing needed; center line accurate to less than the width of a human hair
•  ALL PATIENTS. Works on a broad range of patients, include neonates, dark skinned and obese patients.
•  MEDICAL GRADE DESIGN. Non-contact with a medical grade design. No vents or openings allowing the device to simply be wiped clean without special tools.
• HANDS-FREE CHOICE. Rapid handheld assessment quickly converts to hands free.
Simplified User Interface
AccuVein is useful for a wide range of procedures.
AV500 Vein Visualization System
Weight
283g
Size
5cm x 6cm x 20cm
Continuous Run Time
Approximately 2 hours
Maximum Charge Time
3 hours 45 minutes
(Varies based on discharge level)
Battery
Internal, rechargeable, Lithium Ion 3.6V / 3,100 mAh
Components Included
Desktop charging cradle, worldwide power supply (10w),
country specific + US power plug
Compatibility
Compatible with AV400 and AV300 Stands and Cradles /
Charging may be slower using HF470
Let a Servicom product expert show you how the AV500 Vein Visualization System can help transform your patients – and your practice.
Request for a Free Product Demo Here Now
Description
AV500 : Vein Visualization Device